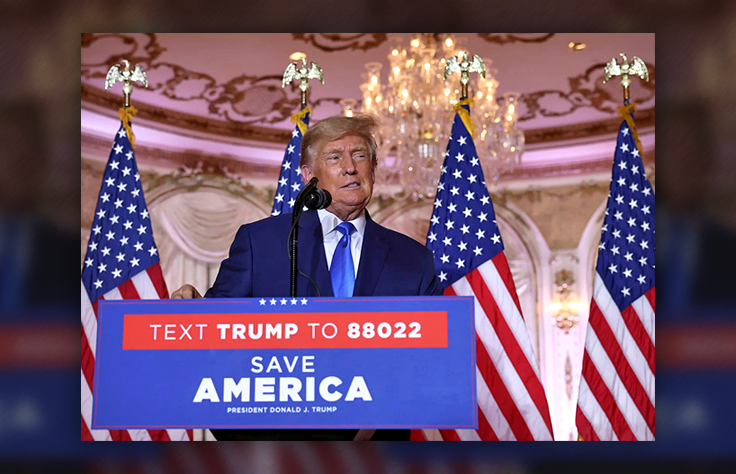 Anxious media executives breathed a sigh of relief Tuesday when Donald Trump, the best thing to ever happen to them in terms of ratings, finally announced his candidacy for president exactly one week after the midterm elections. He is trying to become the first president to win non-consecutive terms as commander in chief since Grover Cleveland in 1893.
"America's comeback starts right now," Trump told a crowd of supporters at his Mar-a-Lago resort. "In order to make America great and glorious again, I am tonight announcing my candidacy for president of the United States."
In a speech that was somewhat low energy but relatively short on ad-libs and extended rants about the 2020 election, Trump touted his record as president while lashing out at President Joe Biden, laying the groundwork for a rematch that most Americans say they don't want.
"Under our leadership we were a great and glorious nation," Trump said. "Now, we are a nation in decline. We are a failing nation." The country was "on track for an amazing future" during his tenure as president, but Biden and the "radical left lunatics running the government" have delivered nothing but "pain, hardship, anxiety and despair."
Trump framed the 2024 election as a choice between his record and Biden's, and predicted voters will decide to return him to the White House rather than live with rampant inflation, an "invasion" of illegal immigrants on the "totally porous southern border," and the "cesspools of violent crime" plaguing "our once great cities."
Trump is the first Republican to announce his campaign for president, but he won't be the last. Foremost among his likely challengers in the GOP primary is Florida's Republican governor Ron DeSantis, whom Trump has already started to attack as "Ron DeSanctimonious." Earlier in the day, DeSantis dismissed Trump's attacks as "just noise" and urged his critics to "check out the scoreboard from last Tuesday night." It was an implicit dig at Trump, whose favored candidates in Arizona, New Hampshire, and Pennsylvania came up short.
The GOP's unexpectedly poor showing in the midterms—narrowly winning control of the House but failing to retake the Senate—prompted some Republicans to blame Trump for obsessing about the 2020 election and endorsing low-quality candidates who squandered winnable races against vulnerable Democrats. Retiring senator Pat Toomey (R., Pa.) noted that Trump-backed candidates "went down in flames" and said Trump's continued refusal to accept the results of 2020 election "disqualifies him" from the presidency.
Gov. Chris Sununu (R., N.H.) just hours before Trump's announcement suggested that "nobody's gonna care" about the former president's campaign launch. "We are a long way off from" 2024, said Sununu, who won reelection by more than 15 percentage points after declining to run for U.S. Senate. Trump's chosen candidate for that race, Don Bolduc, lost to Sen. Maggie Hassan (D., N.H.) by 9 percentage points.
Trump's announcement comes with the Republican Party as divided as ever. Some are already working to curry favor with Trump ahead of the 2024 primary. Kari Lake, the Trump-backed former news anchor who lost the Arizona governor's race, was among the first to offer her "complete and total endorsement." Another Trump ally, Sen. Rick Scott (R., Fla.), announced that he would run for Senate Republican leader against Mitch McConnell, a Trump nemesis.
Democrats, meanwhile, are openly rooting for Trump to win the GOP nomination in 2024. "I think we would all like Donald Trump to run again," said Terry McAuliffe, the former Virginia governor and Democratic National Committee chairman. Bernie Sanders, the socialist U.S. senator from Vermont, concurred. "As a politician who wants to see that no Republican is elected to the White House in 2024, from that perspective, [Trump's] candidacy is probably a good thing," he told the New York Times.
Of course, that is how most Democrats felt in 2016.
The election is only 721 days away.
Enjoy!
The post Lights, Camera, Trump! (He's Running) appeared first on Washington Free Beacon.