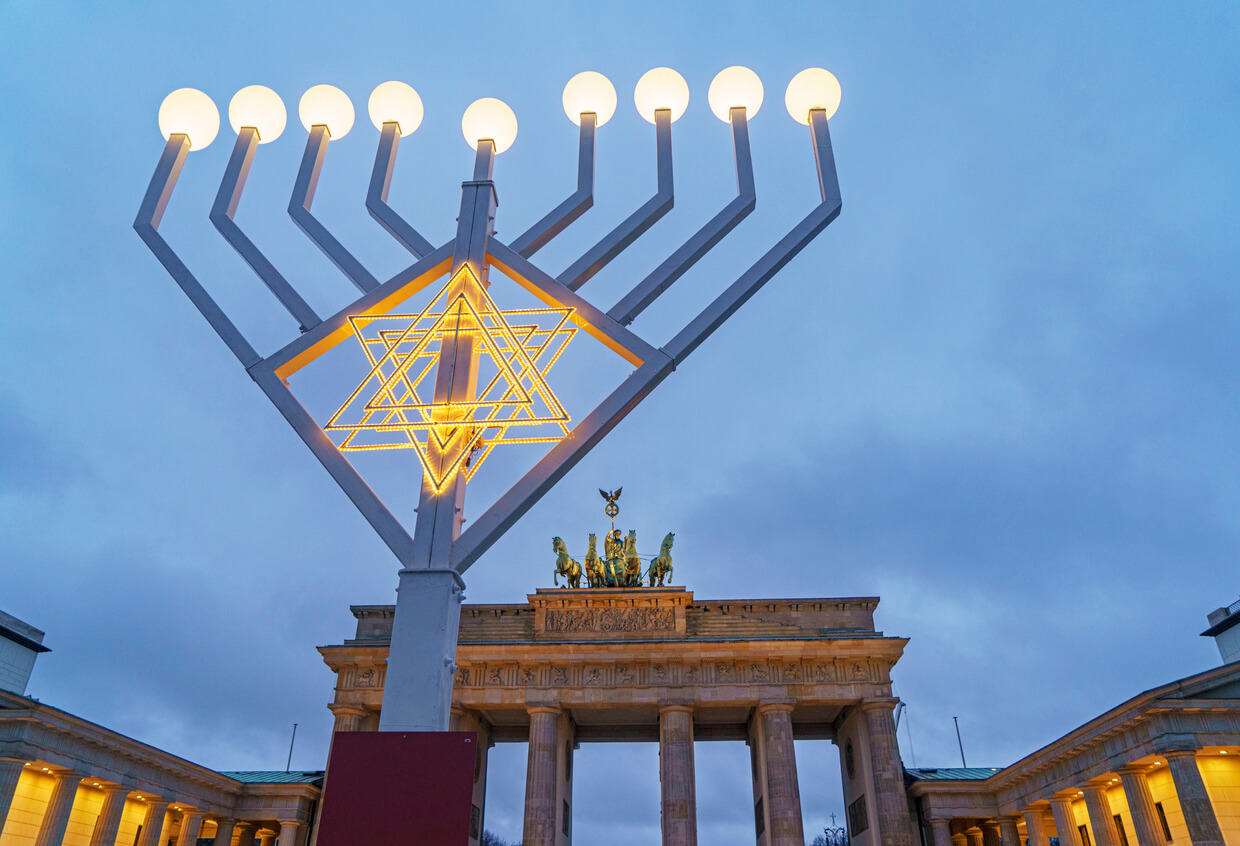 With antisemitic incidents on the rise and antisemitism surging on social media, decorating for Hannukah may give some Jews pause this year.
It's the custom of many to display a menorah — or other symbols of the holiday — prominently during the holiday, which begins on the evening of Dec. 18. Facing the street, they're signs of Jewish pride. But they can also tip off antisemites: Jews live — or pray, or gather — here.
The Forward reached out to Jews whose Hanukkah decorations have been desecrated in the past to find out what they're doing this year. Most decided that they'll once again display menorahs, string holiday lights or post Hanukkah signs in public view, though several said that they would be taking steps to make sure their Hanukkah displays were more secure.
And though the Forward did not hear from Jews unwilling to risk putting out Hanukkah decorations this year, they undoubtedly exist. Surveys have shown that Jews are being more careful about wearing or displaying items that identify them as Jewish. Of those who spoke to the Forward, though, several noted that the vandalism had only steeled their resolve to celebrate the holiday openly, and that they felt comforted and emboldened by the warm response of non-Jews and others in their community who had expressed outrage over past incidents.
It's hard to tell whether incidents involving Hanukkah decorations specifically have risen in recent years. The Anti-Defamation League's HEAT Map, which tracks antisemitic incidents globally, does not include data on those that fall on Jewish holidays.
But according to Scott Richman, ADL regional director for New York and New Jersey, the end of the year has consistently seen a notable uptick in antisemitic incidents generally, likely because Hanukkah decorations are often displayed publicly and prominently.
A stolen menorah
Someone in November 2021 stole a nine-foot-tall menorah outside Alabama's Chabad of Huntsville. A year prior, the building had been struck by vandals, who sprayed anti-Jewish slogans and swastikas on the property. Mushka Cohen, who co-directs the Chabad with her rabbi husband Moshe, said they immediately ordered a replacement plus three additional menorahs, which they placed in prominent spots around town.
"We put those up as an added light, to combat the act of hatred by adding more light and not showing that we're bunkering down," she said.
In the wake of the theft, Cohen said there was "an immediate outpouring of love and support" from both within Huntsville and beyond, with messages and donations flooding in.
"The majority of the local residents always feel the need to reassure us that these are isolated acts by individuals," she said. "No additional hate was shown in any way, shape or form. We only saw positivity."
Cohen said that her Chabad is taking extra security measures to monitor their Hanukkah decorations this year, though she declined to elaborate.
A thud at the door
A woman who lives in coastal Georgia, and spoke on condition of anonymity for fear of reprisals, heard a thud at her door earlier this month and thought she was receiving a package. But when she opened her door, she found her "Happy Hanukkah" sign smashed into two pieces on the ground.
A landscaper who had been mowing a nearby lawn was standing nearby, holding one of her outdoor lanterns. She saw him throw the lantern. When he spotted her, he turned.
"F–k you, dirty Jew," he said, while giving her the finger.
She reported him to her property manager, who dismissed her, saying she had no proof.
The landscaper's outburst terrified her, she said, all the more so because something similar happened the year before. Another Hanukkah sign in front of her home had been defaced when someone sprayed a foam-like substance in the shape of a swastika and wrote anti-Jewish slurs.
At the time, she reported the vandalism to police. They were "useless," she said.
She said last year's incident didn't stop her from decorating her door again this year.
"Both incidents have been scary, more so with the man yelling at me," she said. "But we will continue to decorate and continue to celebrate."
Extra precautions
Chabad's menorah at Elon University in North Carolina, which is up year-round, was torn down in May 2021 by a still-unknown person. This year, the replacement menorah, as well as one erected in the town square, will both be under 24-hour surveillance with high-tech cameras. Armed guards will occasionally patrol the areas near both.
Jewish students at the school are also grappling with antisemitism beyond campus, said Mendy Minkowitz, the Chabad house's rabbi and co-director. 
On social media and at Shabbat dinners, Minkowitz said, they have been airing their concerns about rapper Kanye West, who has gone on a series of public, antisemitic tirades in recent weeks; Kyrie Irving, the NBA player who tweeted out a link to an antisemitic film; and comedian Dave Chappelle, who some say minimized West's behavior in a Saturday Night Live monologue last month.
Balancing pride and safety
Richman said no specific threats have been detected relating to the Hanukkah season. Decorate your home for Hanukkah if you want to, he said, but remain vigilant and report antisemitism to the appropriate authorities and the ADL.
"Jews should be open and proud of who they are and their heritage," he said. "I think we should always balance security, but it's important in this country that we stand for the ability of every faith and ethnic group to be who they are and to be open about who they are."
The Georgia woman, despite the antisemitism she's endured, said she won't be intimidated.
"Even though I may have physically been shaken, my faith will never be shaken, and I will continue to share my decor and celebrate, because I refuse to go into hiding, because that's what these hateful people want."
, and .)
The post Despite rising antisemitism, many Jews still want to celebrate Hanukkah publicly appeared first on The Forward.