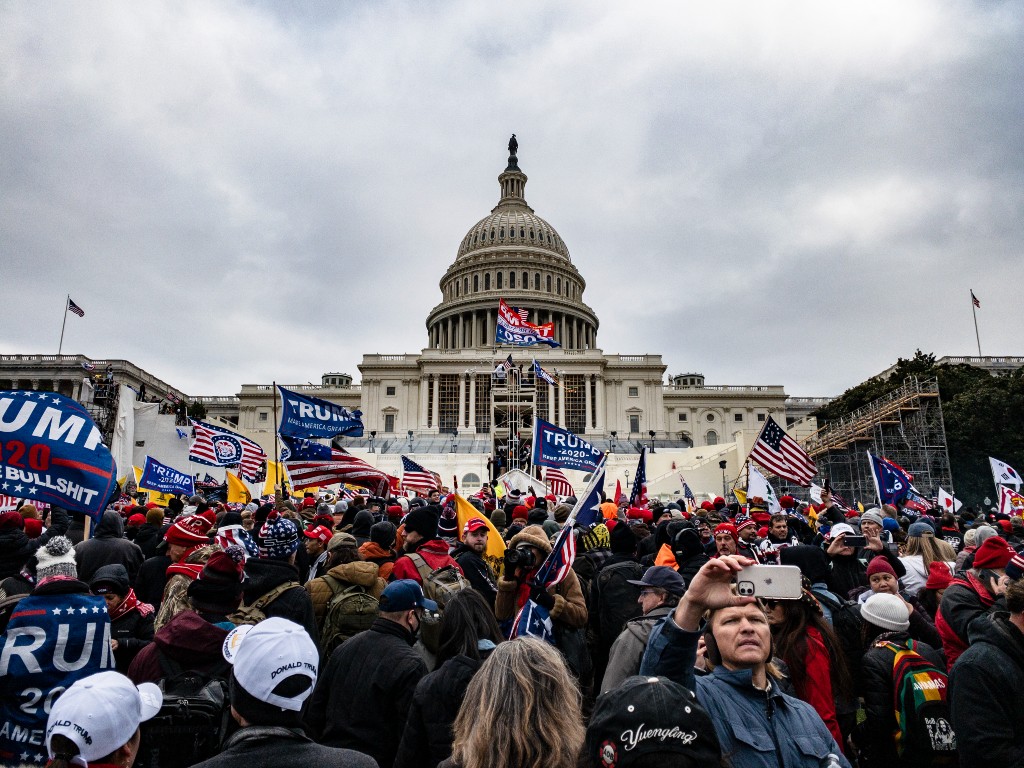 The next two years are likely to see a test of what may turn out to be the most legally consequential recommendation—other than the suggestion of criminal charges—made by the January 6 committee in its final report. Namely, the committee's view that
"those who took an oath to protect and defend the Constitution and then, on January 6th, engaged in insurrection can appropriately be disqualified and barred from holding government office…pursuant to Section 3 of the Fourteenth Amendment."
While the committee addressed congressional vehicles for enforcing that constitutional provision at the federal level, there are also existing provisions and processes to do so on a state-by-state basis. Those vehicles include states' quo warranto laws. In this essay and our accompanying survey of those laws, we outline their applicability in all 50 states and four additional jurisdictions.
We come to this topic just over two years after a violent mob, alongside organized militia groups, stormed the Capitol building, the seat of American government. They disrupted the January 6 congressional certification of presidential electoral votes with the aim to overturn the 2020 presidential election. As a result, various institutions—from the Justice Department to Congress to civil society organizations—have been holding actors of all levels of culpability to account for the assault on our democracy. Over 900 individuals have been charged by the Justice Department in connection with the attack on the Capitol. Federal prosecutors have also secured historic, back-to-back seditious conspiracy convictions against leaders of the far-right Oath Keepers militia for helping foment the insurrection. And in December, the House January 6 select committee culminated their months-long investigation and series of public hearings by issuing several criminal referrals to the Justice Department against former President Donald Trump and some of his closest associates based on their involvement in different parts of the multi-prong effort to overturn the election.
But criminal prosecution is not the only means of January 6 accountability.
Section 3 of the Fourteenth Amendment can also serve that general purpose. Section 3 provides that no person shall hold any state or federal office "who[] having previously taken an oath…shall have engaged in insurrection or rebellion…or given aid or comfort to the enemies thereof." In an initial detailed report published at the Project on Government Oversight, we examined the different avenues for modern-day enforcement of Section 3 with an eye toward holding accountable those who participated in the January 6 attack and in the events that precipitated it. As we discussed in that earlier analysis and an accompanying essay at Just Security, one of the main enforcement mechanisms for a Section 3 disqualification is a quo warranto lawsuit. (Quo warranto is Latin for "by what warrant.") Through this type of lawsuit, an individual's right to hold public office can be challenged.
Our purpose is to provide a comprehensive current survey of the nation's quo warranto laws, and to build on the recent successful use of the doctrine. Despite that fact, the doctrine has been recently used to litigate against a public official who participated in the attack on the Capitol and resulted in his being removed from office. In that landmark ruling last fall, a New Mexico judge removed a state county commissioner from office under Section 3 for his participation in the January 6 attack. Since then, the House select committee in its final report has issued a recommendation that Section 3 disqualification actions be brought against other public officials who engaged in insurrection.
As a continuation of our previous analysis and the work of the House committee, we surveyed the quo warranto procedures in 55 different jurisdictions—the 50 states, the District of Columbia, Puerto Rico, Guam, the U.S. Virgin Islands, and nationally, including some limited instances of federal common law. We did so to map the potential for future uses of quo warranto lawsuits to bar public officials from office. Our analysis of these procedures demonstrates that quo warranto lawsuits can be used by a variety of stakeholders—from private parties such as individual citizens to public entities such as state attorneys general, county district attorneys, municipal or county governments, and even U.S. attorneys. What's more, it shows that quo warranto lawsuits are an accountability tool that is not only widely accessible but also practically meaningful. Such actions hold the potential to disqualify sitting public officials who have violated their oath by engaging in insurrectionist activity. In that way, quo warranto lawsuits can serve as a powerful means of furthering legal accountability against some of the highest-ranking individuals who participated or aided in the assault on January 6.
Our analysis interprets the wide array of state and territorial laws that establish the procedural framework for quo warranto actions by categorizing them according to how they empower different parties, both in bringing actions and in managing them. In some jurisdictions, private parties can supply the government with information to serve as the basis of the government's quo warranto complaint against a public official. These private parties are often referred to as "relators." In Texas, for example, prosecuting attorneys may file a motion "at the request of an individual relator." While such an action is not technically a private action, some jurisdictions also allow relators to manage a case pursuant to the government's oversight. For instance, Missouri law empowers relators to control a case after obtaining leave from the prosecuting attorney.
In other jurisdictions, private parties can themselves file quo warranto lawsuits against public officials without governmental permission. Some jurisdictions, such as Connecticut, allow parties to do so in their own name. In others like North Carolina, however, the government must be the named party. In the latter scenario, the private party, not the government, manages the case; and, indeed, the government possesses no management authority. For example, should the prosecuting attorney decline to bring a quo warranto case in New Mexico, the relator is afforded full control of the suit despite the government being the named party. We identify both these types of quo warranto procedures as private actions, since both enable private parties to bring the suit.
Some jurisdictions have similarly codified which public authorities may initiate a quo warranto lawsuit. Unlike the regulations that empower private relators to issue broader complaints, many regions specify which authorities can litigate against particular officeholders. For example, in Arkansas, prosecuting attorneys may bring quo warranto suits against county officials, while the state's attorney general handles cases against all other officers. Other jurisdictions such as Massachusetts and New York place the onus entirely on the attorney general, while others task other officials such as county or U.S. attorneys with bringing quo warranto suits.
Beyond empowering specific parties, quo warranto laws also impose other and highly varied procedures in these kinds of lawsuits. In New Jersey, for example, the attorney general carries the burden of proof. But in Hawaii, the respondent—that is, the public official whose conduct is in question—bears the burden of proof in lawsuits initiated by the attorney general. Other laws establish a duty upon public officials, usually either the local or state prosecutor, to bring a quo warranto action when, as in Arizona, for example, "they have reason to believe there is a cause." California, Idaho, and Montana, to name a few, impose such a duty upon prosecutors.
Disqualification actions can be brought against public officials who have violated their oath of office by engaging in insurrection or by giving aid or comfort to insurrectionists. The House select committee recognized that in their final recommendations. Our comprehensive survey of quo warranto procedures is intended to serve as a guide to the various private and public stakeholders empowered by state and territorial law to file quo warranto lawsuits so they can continue the House committee's work—holding public officials whom voters have entrusted to lead their government accountable for their wrongdoing.
A note from the authors: This is the first edition of this resource. It is for informational purposes and should not be construed as legal advice. We hope to hear from experts and readers alike about how we can improve and whether any of the judgments we made in assembling this compendium can or should be adjusted in future iterations. Please send your comments to d.janovsky@pogo.com.
IMAGE: Pro-Trump supporters storm the U.S. Capitol following a rally with President Donald Trump on January 6, 2021 in Washington, DC. (Samuel Corum/Getty Images)
The post Do State Laws Block Insurrectionists from Office? appeared first on Just Security.