George Washington University is pursuing disciplinary charges against the campus chapter of Students for Justice in Palestine, and its president, following an October protest, according to a nonprofit representing the student. 
That nonprofit, Palestine Legal, said that the university will hold two hearings Friday to determine whether Lance Lokas, a sophomore, and the club he leads violated the school's policy against property destruction for placing posters critical of Israel and Zionism around campus, including outside the Hillel building.
Dylan Saba, an attorney for Palestine Legal, said that Lokas and club members followed all university rules and placed posters on public lampposts in accordance with Washington, D.C., law, which allows temporary posters so long as they aren't advertising goods or services.
"Students, like any D.C. resident, have free expression rights," Saba said.
 

View this post on Instagram

 

A post shared by Students for Justice in Palestine at GWU (@gwusjp)
The hearing comes amid pitched battles over campus activism related to the Israeli-Palestinian conflict on college campuses, including dueling legal complaints by national organizations representing each side. The Forward spent a year following Jewish students on the frontlines of this activism at GW, and published its findings in October.
GW Hillel said that the hearings were focused on what it called "the antisemitic act of vandalism that targeted our Hillel."
"At this time of rising antisemitism in our country, university leaders have a moral, legal, and ethical responsibility to recognize and forcefully confront this serious threat," Adena Kirstein, the Hillel director, said in an email.
The Jewish students who were involved in placing the posters strenuously objected to the argument that they were antisemitic at the time, and Students for Justice in Palestine called those claims disingenuous in a social media post this week.
The university said in a statement to the Forward that it does not comment on student disciplinary proceedings.
"When the university receives reports of student activity that may violate university policy, the university proceeds in accordance with our Code of Student Conduct and applicable university policies and procedures," a spokesperson said.
Lokas was not available for comment.
Posters, protest drew attention
The hearings Friday are about an Oct. 6 event organized by Students for Justice in Palestine and Jewish Voice for Peace in which they placed posters around campus supporting Palestinian rights and assailing Israel. Some used profanity, including several that stated: "Zionists fuck off" over the image of a woman wearing a keffiyah. 
The following week, the two clubs gathered outside the Hillel building — located near the center of GW's urban campus — to protest an event hosted by GW for Israel featuring Doron Tenne, a former senior commander in the Israel Defense Forces who they accused of war crimes.
Video of the protest and photos of the posters circulated among pro-Israel organizations on social media, and at least one — StopAntisemitism.org — encouraged its followers to identify the students involved.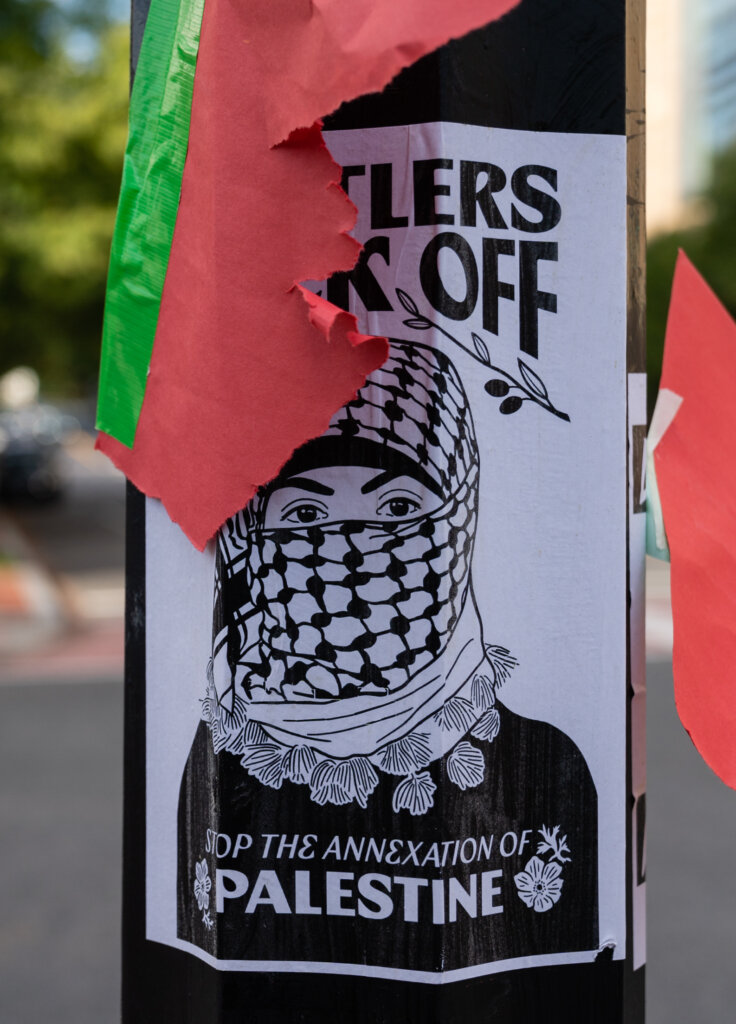 Posters targeting Israel were placed around George Washington University's campus in early October, including several profane flyers outside the Hillel building. Another flyer read: "Zionists fuck off." Photo by Eric Lee for the Forward
After the event, Palestine Legal said that campus police subsequently contacted an Arab student who was a member of SJP to question her about the protest. Lokas was subsequently contacted by university officials who held a student conduct meeting about both the protest and the posters.
The school charged Lokas with violating the student conduct code for "misconduct related to property," according to Palestine Legal. Those charges will be adjudicated Friday in two separate hearings, one for the claims against Lokas and another for those against Students for Justice in Palestine.
Saba said the most severe sanction that Lokas and the club could face is "disciplinary probation," which would not involve removal from campus or a ban of the group.
While the university is not seeking to enforce Washington, D.C., law, the district's municipal code generally allows non-commercial posters to be placed on public property for up to 180 days. It includes a series of other requirements that do not appear to have been followed in this case, including that posters must be marked with the date they were posted.
Two posters were pasted onto a seating area that is part of GW Hillel's building, which is not public property, on the same night that the other posters were pasted nearby. The organization said that removing the posters caused damage to the wooden benches. Saba said they were not placed there by Lokas or any SJP members. "A lot of people participated," he said of the postering.
Previous clashes
Palestine Legal filed a legal complaint against GW last year, claiming that it discriminated against Palestinian students when it shut down a student support office. The office organized a virtual event for Palestinian students during the May 2021 violence in Israel and Gaza, and accused Israel of apartheid on social media, drawing a rebuke from university leadership.
Saba said that complaint is still being investigated by the D.C. Human Rights Commission.
He said it appeared that SJP had been singled out for disciplinary action by the university. Jewish Voice for Peace's campus chapter, which helped organize both the postering and protest outside Hillel does not appear to have been sanctioned. 
Last winter, posters were placed around campus satirizing the Winter Olympics in Beijing by drawing attention to Chinese human rights abuses by showing Chinese athletes beating Tibetan monks and shooting Uighur Muslims. The Chinese Students and Scholars Association claimed that the posters were racist, but Mark Wrighton, the university president, defended them as expressions of free speech.
"I do not view these posters as racist; they are political statements," Wrighton said at the time. "There is no university investigation underway, and the university will not take any action against the students who displayed the posters."
The post Palestinian student activist faces discipline over 'F— Zionists' postering appeared first on The Forward.