Deforestation Inc. exposed how hundreds of companies worldwide use audits and certification programs that stamp their forestry products as sustainable, despite being denounced by governments and environmental groups for a wide range of destructive practices.
As part of the nine-month investigation, 140 journalists in 27 countries made freedom of information requests and gathered information on environmental violations by companies, import records about forestry products, court records, auditing companies reports, sanctions, and "green" certificates given to companies in the forest products industry. ICIJ's data and research team reviewed nearly 2,000 case studies involving 410 companies alleged to have committed environmental violations in at least 50 countries.
ICIJ found that, over the last 25 years, at least 340 companies in the forest products industry were cited by government agencies and environmental groups for a wide range of destructive practices after auditors had already certified their operations and products as sustainable. Those companies were later accused of overharvesting old growth forests and other illegal logging practices, bribing forestry officials, importing wood products in violation of trade restrictions, and performing sloppy checks on suppliers.
Fifty of those certified firms were later fined or convicted by a government authority or a court.
Such cases are almost certainly undercounted, in part, because many government databases of environmental crime don't identify the companies responsible.
How did we identify information on the environmental violations and the sustainability certificates given to the companies in the forest products industry?
As part of the research done for the investigation, the team reviewed allegations tied to forest products companies accused of committing deforestation and other types of environmental degradation, as well as the auditors that monitored their activities and certified their operations and products as sustainable.
The analysis showed that 48 auditors had given their stamp of approval to forest products companies that had previously been charged with such violations as logging in Indigenous forestland and protected reserves, using false permits to continue cutting trees, and importing illegally harvested timber. The certification process enabled those companies to label their products as sustainable — ranging from paper cups to luxury yacht decks — even when it was unclear whether their harmful practices had been stopped.
As there is no centralized database with all the information tied to deforestation and other types of environmental degradation or crime, ICIJ built its own. With the help of media partners, the data team reviewed reports by environmental and human rights organizations, court filings and local authorities' databases tracking environmental violations and fines issued to companies. ICIJ and media partners also filed freedom of information requests to get these types of records when they weren't publicly available.
Environmental violations data gathered from government websites included the Brazilian Institute for the Environment and Renewable Natural Resources (Ibama) in Brazil, and penalties reports from the Ministry of Environment and Climate Change Strategy from British Columbia in Canada, among others.
The reports by environmental groups and the government responses received by partners in different countries were shared through ICIJ's communication platform, the Global I-Hub.
ICIJ's data and research team created spreadsheets to structure, classify, and fact-check the allegations made against forest industry companies across the world. The team then cross-referenced each company's name against "green certificates" databases maintained by  organizations such as the Forest Stewardship Council (FSC), the Programme for the Endorsement of Forest Certification (PEFC) and others, checking for the time period of certifications and the auditors involved.
ICIJ classified those cases to see whether the certificates were valid before, while or after the allegations against the companies were reported. ICIJ then focused on the cases that occurred while the certificates were valid, which were the only ones used for final analysis.
Using the Orbis database, ICIJ identified the parent companies of the auditors and the forest industry firms, which was key to review how many of them had certificates and were mentioned in the environmental groups and government reports. For example, many international companies rely on local subsidiaries in the palm oil sector, whose names then appear in NGO reports denouncing deforestation or harm done to Indigenous communities. This cross-check helped tracking multinationals' harmful practices across borders.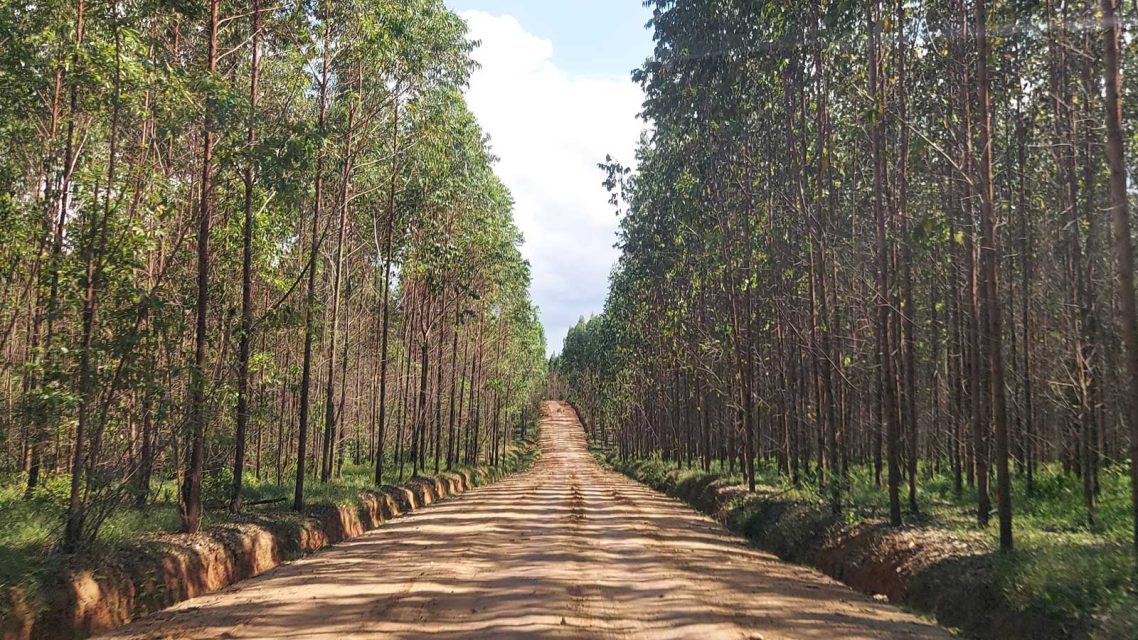 Legal harvesting of trees but in an area that locals say has been negatively impacted by the pulp industry in Sumatra, Indonesia. Image: Provided to the CBC
What were the biggest challenges?
When available, the quality of the data on allegations of environmental harm by companies in different countries varied significantly. Sometimes information on environmental crimes does exist, but governments or authorities don't identify the firms behind them. Other countries don't gather the data or don't make it publicly available, which limits the possibilities to analyze global trends.
The information was available in different languages and formats. Besides employing automated translations, the data team was also supported by ICIJ's media partners who helped to contextualize the data by understanding its limitations and how local regulations affected how information was collected.
ICIJ also analyzed data on the implementation of the current European timber regulation, which, since 2013, bans the import and trade of wood products linked to illegal harvesting. The analysis is based on monitoring reports that member states submitted to the European Commission from 2019 to 2021. According to an ICIJ review of government websites, only about half of the EU countries make those reports publicly available.
Looking at those EU reports, ICIJ found that from 2019 to 2021 officials in EU member states checked only a small fraction ー less than 1% per year ー of the estimated number of companies that imported and traded forest products in their respective countries.
As most EU reports contain aggregated data rather than a detailed narrative of each case, the analysis was very limited.
Do you have a story about corruption, fraud, or abuse of power?
ICIJ accepts information about wrongdoing by corporate, government or public services around the world. We do our utmost to guarantee the confidentiality of our sources.
What sources were relevant to identify information on Myanmar teak exports?
ICIJ and media partners investigated how western firms certified as socially responsible trade in Myanmar teak linked to the military regime. The reporting exposed how Myanmar timber imports by other countries — in some cases even after the United States and the EU had imposed sanctions in response to a military coup — helped fund the military regime.
Besides reviewing environmental violations reports and sustainable certificates data with links to Myanmar, the team looked closely at global trade data from ImportGenius, U.N. Comtrade, sanctions data and also examined files leaked from Myanmar's Internal Revenue Department and shared with ICIJ by Justice for Myanmar, a human rights group, U.K.-based news outlet Finance Uncovered, and Distributed Denial of Secrets, a nonprofit whistleblower group.
ICIJ's investigation found at least 10 teak traders and retailers the held green certifications while buying from Myanmar suppliers. These companies continued displaying those labels even after some European authorities began restricting the import of wood from Myanmar in 2017 and after the EU and the U.S. imposed sanctions in 2021.
In a 2022 report, Myanmar's military government said it had earned more than $106 million from exporting timber products in less than a year. According to EU and U.N. data reviewed by ICIJ, companies based in Europe and the U.S. were responsible for importing more than $47 million worth of Myanmar timber products in 2022.
Any advice for gathering data that can be useful for environmental investigations such as Deforestation Inc.?
The power of collaboration can help strengthen the reporting as well as gather data to research environmental issues. In the case of Deforestation Inc., when information was not publicly available, journalists requested data from their governments on environmental violations and fines.
Some environmental groups and governments maintain public databases listing allegations or actual breaches of environmental law committed by companies active in their country, which could be useful as a starting point. Court records and trading data such as those made available via ImportGenius, U.N. Comtrade, and STIX Global can be valuable to help trace the impact of such activities across borders.
Organizations that provide sustainability certificates to companies in the forest products industry — such as FSC and PEFC — usually have online databases that confirm whether a firm has been endorsed by their programs or not. They also name the auditing firms that reviewed the company and should monitor their activities in line with the certification programs. They sometimes also have additional information on the auditors as well as supporting documents.
When looking at companies and auditors that provide certificates, it can be valuable to gather information on the parent companies, using corporate public records and tools such as Orbis, as that can help identify interesting connections.
WANT MORE STORIES THAT ROCK THE WORLD?
ICIJ is an independent, donor-supported investigative news outlet. Together, we expose wrongdoing so that the world can make it right.
Just $10 / month can change the world.
Where can we find more information about the cases reported as part of the Deforestation Inc. investigation?
The findings and entities identified during our research are reflected in the different stories published by ICIJ and media partners. ICIJ stories can be found here and media partners information can be found here. Due to its complexity, ICIJ is only publishing cases in which the companies were reached for comment; the rest of the data used for analysis and research purposes is not available online.
If you have any tips or information you would like to share with the team of journalists who worked on Deforestation Inc., you can send an email to contact@icij.org or use one of these platforms to contact ICIJ.
Contributors: Allan de Abreu, Luiz Fernando de Toledo and Bernardo Esteves (Piauí), Guilherme Waltenberg (Poder360), Karlijn Kuijpers (NRC), Krisna Pradipta (Tempo), Aidila Razak (Malaysiakini), Kirsi Skön (YLE)