The arrest of two men accused of plotting to attack a synagogue at New York City's Pennsylvania Station Friday by police, who seized a large hunting knife and an illegal gun belonging to one of them, was the result of a tip from a Jewish security organization.
Eric Goldstein, the chief of UJA-Federation of New York, praised his group's security team for identifying menacing posts by Christopher Brown, who was arrested Friday with a Swastika arm patch, during a press conference Monday.
But the process that led to the arrest of Brown, 21, and Matthew Mahrer, 22, was outlined in greater detail during a public webinar Tuesday — offering a rare look at how an extensive system of online monitoring by Jewish organizations and close relationships with police enables the community to head off violent threats.
"This is one of the times where having this historic and close relationship with law enforcement comes in handy," said Mitch Silber, executive director of the Community Security Initiative, a joint project of UJA-Federation and the Jewish Community Relations Council of New York.
Flagging the threat
Rebecca Federman, a threat analyst for the group, first noticed the menacing Twitter post that would ultimately lead police to Brown when she logged onto her computer Friday morning: "Gonna ask a Priest if I should become a husband or shoot up a synagogue and die."
By 11:30 a.m, Federman, who is embedded with an Anti-Defamation League team, had worked with her colleagues to funnel the message and other information about the anonymous account that posted it to the Federal Bureau of Investigation.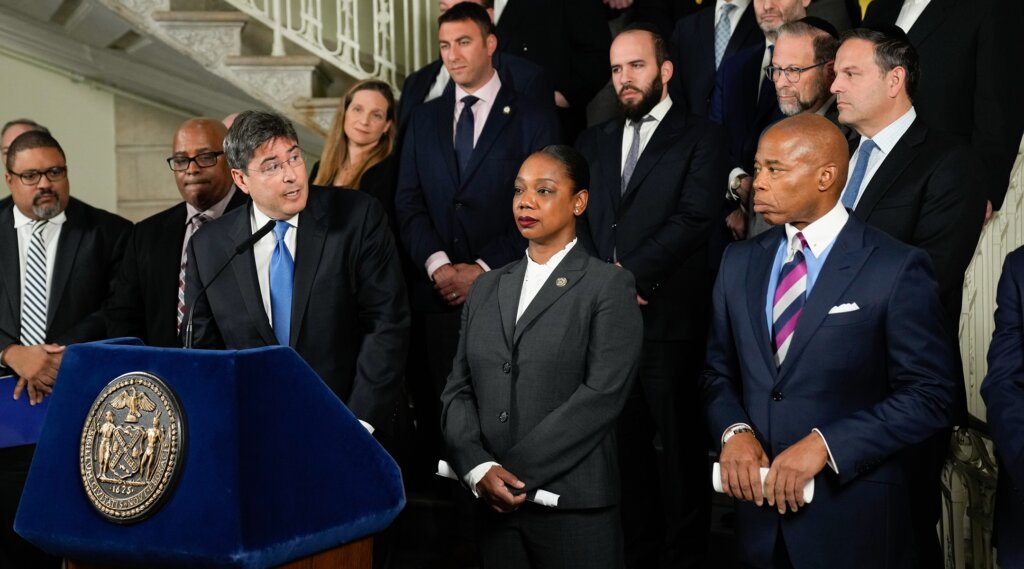 Eric Goldstein, CEO of UJA-Federation of New York; Keechant Sewell, New York City Police Commissioner, and Mayor Eric Adams at a news conference at City Hall Monday discussing how the Jewish community tipped police that a suspect was plotting attacks on synagogues. Photo by New York City Mayor's Office
The Community Security Trust, which seeks to prevent antisemitism in the United Kingdom, had also flagged the message overnight, and alerted two other American groups that monitor antisemitic threats: The Secure Community Network, which works with Jewish federations, and the Community Security Service, which leads a force of synagogue volunteers.
"I'm sure there could be a comedy routine about all our acronyms," said Hindy Poupko, who moderated the webinar for UJA-Federation.
But in the case of the New York threat — and a similar one aimed at New Jersey synagogues earlier this month — those involved said the organizations worked together smoothly.
Around 2 p.m., New York police contacted Silber's team to ask for copies of the Twitter messages in order to get information about the person behind the account from the social media company. 
Silber spent seven years as a senior official in the New York Police Department's intelligence division and was able to leverage his relationships with law enforcement to push them to take the threat seriously: "I know you get a lot in your inbox," he recalled communicating to police Friday, "but we think this one is really important."
Then they waited. When a federation regional security manager in Queens reached out at 9 p.m. to say that the NYPD had put a "be on the lookout" alert out for Brown, Silber said he tried to reach the department's chief of intelligence, Thomas Galati, to see if the alert was a result of the Jewish community's tip.
"Yeah Mitch, that's the guy," Galati reportedly told him, answering the phone despite the fact he happened to be in Australia at the time. "It's live right now."
Close ties to police
These close ties to top police officials are a relatively recent phenomenon for Jewish organizations.
"You look back at Jewish life 50 years ago — the kind of relationships they had with law enforcement was nothing like this," said Greg Ehrie, who joined the ADL in 2020 as its vice president for law enforcement and analysis after more than two decades at the FBI.
These backgrounds in law enforcement are now common to see on the resumes of top security officials at major Jewish organizations.
For example, Michael Masters, director of Secure Community Network, which is affiliated with the Jewish Federations of North America, is a former chief of staff for the Chicago Police Department, and is a member of the Department Homeland Security's advisory council.
Ehrie, who previously oversaw FBI investigations in New Jersey, said that federal law enforcement has a unique ability to "digest" the kind of intelligence identified by analysts at ADL and other Jewish nonprofits, but that those groups offer a distinct benefit to the community: they can devote resources to focus specifically on threats facing Jews.
The ADL has about 35 analysts at its Center on Extremism that work full-time on online threats, and share their findings with both law enforcement and groups like the Community Security Service, which claims thousands of volunteers at synagogues and Jewish institutions around the country.
Evan Bernstein, the organization's director, said that Jewish security officials set up an emergency group chat Friday to coordinate messaging. That meant he could be sure that any bulletins he sent out to hundreds of CSS members in New York City — who keep watch outside their shuls — matched what his peers were seeing.
Meanwhile, as the Jewish groups waited for updates from law enforcement they had also helped Shomrim groups — Orthodox security patrols in Jewish neighborhoods — activate their volunteers across Brooklyn Friday evening.
Boasting of plans
Of course, despite its growth in recent years the Jewish security monitoring infrastructure lacks the security clearances and subpoena power of actual police. That means that its ability to identify threats and tip police is typically limited to the ones that are made public on dark corners of the internet. 
But fortunately, according to those doing the analysis, many of those who aim to carry out antisemitic violence can't help but make these posts. Like Brown, the New York suspect, Omar Alkattoul, the 18-year-old New Jersey man arrested earlier this month for threatening to attack a synagogue, allegedly came to the attention of law enforcement after distributing an antisemitic manifesto online.
"It doesn't totally make sense from a logistical standpoint," said Federman, the New York City analyst, but I think a lot of these people want the credit."
"It's sort of their flex — if you will — to demonstrate that they really were that bad, they really had planned this."
The post How a Jewish security network tipped off police about New York City threat appeared first on The Forward.