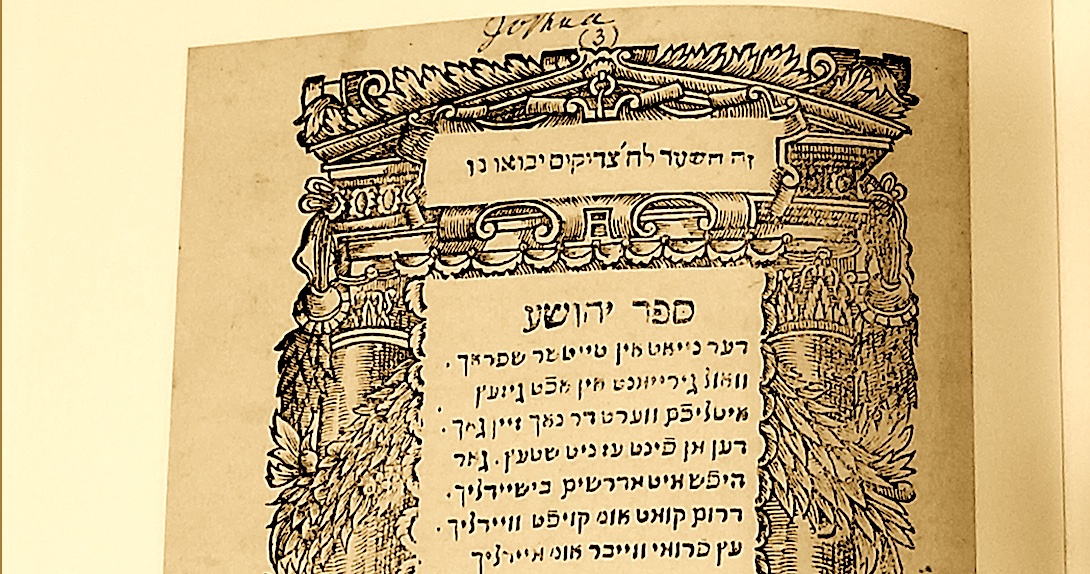 אַ נײַ בוך אין דער סעריע "ייִדיש: אױסגאַבעס און פֿאָרשונגען" פֿונעם דיסלדאָרפֿער אוניװערסיטעט אין דײַטשלאַנד נעמט אַרײַן פֿיר מוסטערן פֿון דער פֿרי–מאָדערנער ייִדישער דיכטונג.
דאָס זײַנען די פּאָעטישע איבערטײַטשונגען פֿון ספֿר יהושע און ספֿר שופֿטים פֿונעם 16טן יאָרהונדערט, װאָס האָבן זיך אָפּגעהיט אין כּתבֿ–ידן און געדרוקטע ביכער און געפֿינען זיך הײַנט אין די װיסנשאַפֿטלעכע ביבליאָטעקן אין אָקספֿאָרד, ירושלים און פּאַרמאַ, איטאַליע. דער ירושלימער פֿאָרשער אורן כּהן ראָמאַן האָט צוגעגרײט די אױסגאַבע פֿון די טעקסטן און באַזאָרגט זײ מיט אַ װאָגיקער הקדמה און פּרטימדיקע הערות. די אַנאָנימע מחברים פֿון די דאָזיקע איבערטײַטשונגען האָבן געשעפּט זײער שטאָף פֿונעם תּנ״ך און פֿון די געהעריקע פּירושים און מדרשים, אָבער די פּאָעטישע פֿאָרם האָבן זײ געבאָרגט פֿון דער דײַטשישער מיטל–אַלטערלעכער עפּישער דיכטונג.
אינעם כּתבֿ–יד פֿונעם ספֿר שופֿטים פֿון פּאַרמאַ געפֿינט זיך אַ קורצע אױפֿשריפֿט פֿון אײנעם אַ משה הונט, װאָס האָט קאָפּירט דעם דאָזיקן טעקסט. ער איז געװען אַ בעל-הלװאה און דער איטאַליענישער שטאָט ברעשיאַ, אָבער בעת דער פֿראַנצױזישער אָקופּאַציע אין 1509 האָט ער פֿאַרלױרן זײַן פֿאַרמעגן און האָט צוליב פּרנסה זיך גענומען צום קאָפּירן כּתבֿ-ידן. די ייִדישע שפּראַך פֿון זײַן אױפֿשריפֿט האָט אַ היפּשע צאָל איטאַליענישע װערטער. דאָס איז אַ סימן, האַלט ראָמאַן, אַז משה הונט איז ניט געװען דער מחבר פֿונעם טעקסט גופֿא, װאָס האָט בלױז געצײלטע װערטער פֿונעם איטאַליענישן אָפּשטאַם.
דער זשאַנער פֿונעם תּנ״כישן עפּאָס, דאָס הײסט, פּאָעטישע אַדאַפּטאַציעס פֿון די געשיכטעס פֿונעם תּנ״ך אינעם סטיל פֿון דער דײַטשישער עפּישער דיכטונג, איז געװען פֿאַרשפּרײט אין דער אַלט–ייִדישער ליטעראַטור פֿון יענער תּקופֿה. די פֿאָרשער האַלטן, אַז די דאָזיקע גרױסע װערק האָבן זיך אַנטװיקלט פֿון קורצע לידער װעגן אײנצלנע עפּיזאָדן, װאָס מען האָט איבערגעגעבן בעל–פּה. מיטן אױפֿקום פֿון ביכערדרוק זײַנען די דאָזיקע לידער אַרײַן אין לענגערע געדרוקטע פּאָעמעס. ראָמאַן האַלט, אַז די נוסחאָות פֿון ספֿר יהושע און ספֿר שופֿטים געהערן צו די ערשטע מוסטערן פֿונעם עפּישן זשאַנער, װאָס נעמען אַרײַן שטיקלעך פֿון די עלטערע קורצע לידער. זײ זײַנען פֿירגײער פֿון די בעסער באַקאַנטע אַלט–ייִדישע תּנ״כישע פּאָעמעס, שמואל–בוך און מלכים–בוך. דער צװעק פֿון די דאָזיקע חיבורים איז געװען צו באַקענען דעם ברײטערן עולם, װאָס איז ניט געװען גוט באַהאַװנט אין לשון-קודש, מיט דער תּנ״כישער געשיכטע פֿונעם ייִדישן פֿאָלק.
אין די ייִדישע איבערטײַטשונגען געפֿינט זיך אַ נאַראַטאָר אַ דיכטער, װאָס רעדט צומאָל דירעקט צו דעם עולם, דערקלערט הלכישע ענינים אָדער דעם פּשט פֿון לשון–קודשדיקע װערטער. עס בלײַבט עד–היום ניט קלאָר, װי אַזױ האָט דער דיכטער פֿאַרפֿאַסט זײַן חיבור, בעל–פּה אָדער בכּתבֿ? אין אײן אָרט פֿון ספֿר שופֿטים שטײט: "און זאָגט אױך דער טיכטר [דיכטער]", בעת אין אַן אַנדער אָרט זאָגט ער: "צו שרײבן בין איך מױד [מיד]". צום שלוס פֿון ספֿר שופֿטים װענדט זיך דער נאַראַטאָר צו זײַנע לײענער מיט אַ װוּנטש: "ליבן ורױינד הט אױיך דש גישענקט, אונ' נעמט דש װיניג ור גוט: / דש איר מײנר דא בײא גידענקט, װען איע זײט װאל גימוט [ליבע פֿרײַנד, אָט איז אײַך דאָס געשענק, און נעמט דאָס װײניק פֿאַר גוט: / אַז איר מיך דערבײַ געדענקט, װען איר זײַט װױל געמיט]".
די ייִדישע מחברים, װאָס האָבן איבערדערצײלט תּנ״כישע מעשׂיות פֿאַרן ייִדישן לײענער, האָבן גערופֿן זײער מעטאָד "טײַטש". זײ האָבן פֿאַרביטן די לשון–קודשדיקע װערטער דורך דײַטשמערישע, געענדערט די גראַמאַטיק און צוגעגעבן "צוזאַץ" אָדער "אױסרײד" — אַזױ האָט מען גערופֿן די דערקלערונגען, װאָס מען האָט לרובֿ גענומען פֿון רש״יס פּרושים און פֿאַרשײדענע מדרשים. הײַנטיקע פֿאָרשער קענען ניט אַלע מאָל דערקענען מקורים פֿון די דאָזיקע "צוזאַצן". למשל, מען לײענט אין דער ייִדישער איבערטײַטשונג פֿון ספֿר יהושע, אַז אַרום יריחו זײַנען געװען זיבן װענט, כאָטש אינעם תּנ״ך װערט דערמאָנט בלױז אײנע. קען זײַן, אַז אײניקע "צוזאַצן" שטאַמען פֿונעם ייִדישן פֿאָלקלאָר אָדער פֿון פֿאַרלױרענע מדרשים.
ספֿר יהושע און ספֿר שופֿטים דערצײלן װעגן בלוטיקע שלאַכטן צװישן די אוראַלטע ייִדישע שבֿטים און זײערע שׂונאים אָדער צומאָל אױך צװישן די אײגענע. די שילדערונגען פֿון די דאָזיקע "שטרײטן מיט שטערק" אין די ייִדישע איבערטײַטשונגען זײַנען סטיליסטיש ענלעך צו אײראָפּעיִשע, בפֿרט דײַטשישע, עפּישע ריטער–ראָמאַנען אין פֿערזן. זײ נוצן די געגראַמטע פּאָעטישע סטרוקטור "ניגון שמואל–בוך" פֿון פֿיר–שורהדיקע סטראָפֿעס, װאָס ייִדן האָבן געבאָרגט בײַ דער דײַטשישער דיכטונג. אַן אַנדער סימן פֿון דער אײראָפּעיִשער השפּעה זײַנען אײניקע אַנאַכראָניסטישע שטײגערישע פּרטים פֿון דעם מיטלאַלטער, װי למשל פֿראַנצױזישע מטבעות, קריסטלעכע קירכן און פּולװער, װאָס געהערן ניט צו דער אוראַלטער תּקופֿה פֿונעם תּנ״ך.
ראָמאַן פֿאַרסך–הכּלט זײַן אַנאַליז פֿון די פֿיר פּאָעטישע װערק אַזוי: "די מחברים פֿון די דאָזיקע װערק זײַנען מסתּמא געװען געלערנטע ייִדן גוט באַהאַװנט אין די רבנישע װערק און באַקאַנט מיט דער דײַטשישער עפּישער דיכטונג." בײַם הײַנטיקן לײענער איז זײער שפּראַך אָפֿט מאָל שװערלעך צו פֿאַרשטײן, אָבער זי פֿאַרמאָגט אַ ספּעציעלן חן. די טראַדיציע פֿון דיכטערישע איבערטײַטשונגען האָט זיך אָבער איבערגעריסן און ניט געהאַט קײן המשך אין מזרח–אײראָפּע. זײער אָרט האָט פֿאַרנומען די מײַסטערישע פּראָזע–װערק "צאינה וראינה", װאָס עד–היום פֿאַרבלײַבט אַ באַליבטע לעקטור בײַ פֿרומע ייִדישע פֿרױען.
The post Medieval Yiddish poetry on Biblical themes appeared first on The Forward.