This article is part of our morning briefing. Click here to get it delivered to your inbox each weekday.
Meet the Shabbat-observant Ethiopian Jew who could replace George Santos
Each passing day seems to bring new revelations of lies told by Rep. George Santos, the freshman Republican from New York. His fellow Long Island Republicans have called for Santos to resign, and some are already lining up contenders to take his place. At the top of their list is Mazi Melesa Pilip, a Nassau County legislator. We kick things off this morning with a profile of Pilip by Ron Kampeas of the Jewish Telegraphic Agency…
Mission driven: Pilip, 43, said her journey into American politics was propelled by her experience advocating for fellow Ethiopian immigrants in Israel — where she moved as a child through the Operation Solomon airlift — and by her children's experience with antisemitism in their Long Island schools. 
Family ties: Pilip met her husband, a Ukrainian-American and the child of Holocaust survivors, while he was a medical student at Technion-Israel Institute of Technology, and she was attending the University of Haifa. She gave birth to twin daughters — her sixth and seventh children — weeks before her 2021 election to the county board.
Shul hopping: During that campaign, Pilip said she would sometimes campaign at one synagogue in her county on Friday night, sleep at a congregant's house "because I'm shomer Shabbat and I couldn't walk back home," and then visit a different shul the next morning. "Only when Shabbat was over would I go home," she said. "I did this for two months. It was intense but it was worth it. I met a lot of people."
Feeling betrayed: "I trusted him and I told people to vote for him. I campaigned with him," Pilip said of Santos. "It's making you feel uncomfortable because people asking, you know, what's, what's going on, Mazi, what happened with this guy?"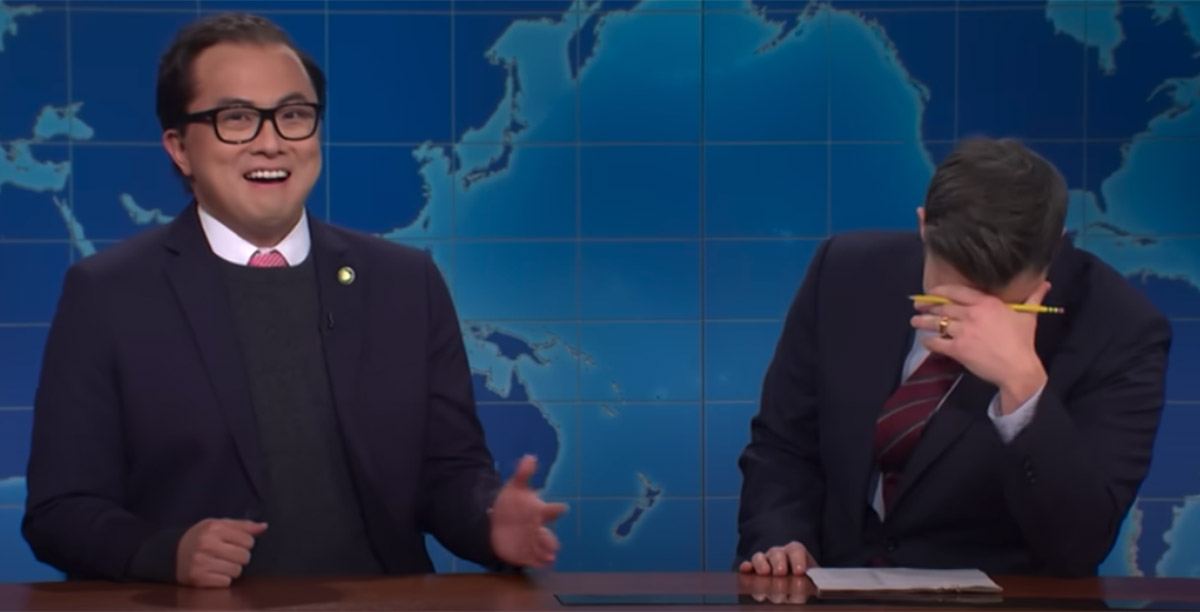 In case you missed it: This weekend's Saturday Night Live mocked Santos' Jewish claims. My ancestors "actually knew Anne Frank," said the cast member portraying Santos. "My ancestors were the ones that told her, 'You should be writing this down.'" Watch the video ➤
Tuesday at 7 p.m. ET: Join us for a special "Beyond the Bylines" virtual conversation with our contributor Andrew Silverstein and political reporter Jacob Kornbluh about how they broke the stories of Santos lying about his Holocaust heritage and his Jewish identity. This event is limited to Forward donors, so if you admired this coverage and want to see more of it, make a donation of any size and register for the event now ➤
Jeffrey Zients helped lead the Biden administration's COVID-19 response. (Getty)
Biden taps Jeffrey Zients as chief of staff: With the 2024 election looming, President Joe Biden is set to name Zients, a management consultant and the owner of Washington's "Call Your Mother" bagel shop, to replace Ronald Klain, who announced this weekend he would step down. Like Klain, Zients is Jewish. "At a time of rising antisemitism," said Tevi Troy, a presidential historian, "this is a good sign for Jews about how welcoming this country is." Read the story ➤
Opinion | When did Zionists become snowflakes? The way Jewish institutions reacted to a few dozen pro-Palestinian students protesting this month at the University of Michigan exemplifies an unwelcome trend in pro-Israel advocacy, writes our columnist Rob Eshman. While Eshman acknowledges that there "are plenty of real antisemitic threats," he argues that recent campaigns by national Zionist groups insisting that campuses be "safe" for pro-Israel students threatens to create "a generation of fragile Zionists unable to stand up for what they believe in the face of fierce criticism." Read his essay ➤
Now you can touch the names of more than 4.8 million victims of the Holocaust victims: A 'Book of Names' measuring 6 ½-feet high, more than 3-feet wide and nearly 26 ½ feet long will go on display at the United Nations later this week for International Holocaust Remembrance Day. After three weeks, it will be sent to Israel to become a permanent exhibit at Yad Vashem. Read the story ➤ 
But wait, there's more…
The closing film at last night's New York Jewish Film Festival was about an idyllic Spanish town where Jews, Christians and Muslims live in peaceful coexistence. The movie paints Judaism "as both flexible and beautiful," our Mira Fox writes in a review.
An abortion opponent spoke up in a film-industry Zoom meeting about "meaningful responses" to the Supreme Court's overturning of Roe v. Wade. Someone on the call asked our Bintel Brief advice column if it's OK to tell colleagues about her statement — so they can avoid working with her.
How closely have you been following the Jewish headlines? Test yourself with our quiz. (I scored 6/8 this week.)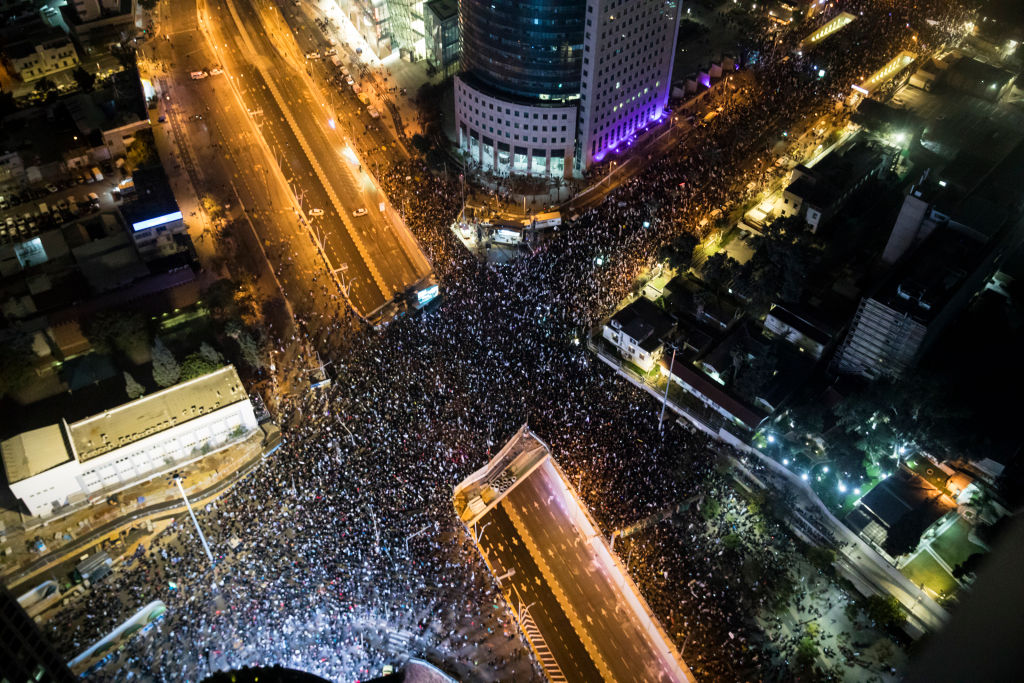 More than 100,000 people across Israel rallied against Prime Minister Benjamin Netanyahu's government Saturday night, amid growing anger over the ruling coalition's plans to weaken the Supreme Court and other democratic institutions. It was one of the biggest shows of public protest against an Israeli government in years.
Heading for the exit: Israel's Ambassador to Canada announced Saturday that he would step down rather than serve under Netanyahu's new hardline government, following a similar move in December by the envoy to France.
Legal trouble ahead? Israel's Attorney General Gali Baharav-Miara plans to meet this week with judges and justice department officials to consider declaring Netanyahu unfit for office, citing a conflict of interest because of his ongoing trial on corruption charges.
Hollywood dreaming: One of The West Wing's most iconic episodes featured the fictional president brokering a peace between Israel and its Arab neighbors. How would those scenes play out today in light of Israel's new right-wing government? Our editor-in-chief, Jodi Rudoren, talked about it with Joshua Malina, one of the show's Jewish stars. Read her column ➤
And one more: Israel has been an LGBTQ haven in the Middle East. Its new government could change that.
Spread the word! Invite someone
to sign up for this newsletter.👇
WHAT ELSE YOU NEED TO KNOW TODAY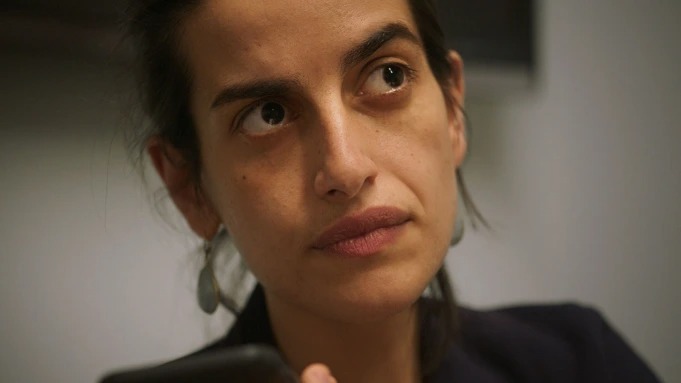 🎒  Michael Woodberg resigned as dean of students at a Michigan middle school after only nine days on the job because he received an antisemitic death threat. "As you can imagine," the superintendent wrote in an email to parents, "the threat affected Mr. Woodberg and his family, and permanently changed the way they operate and view the environment around them." (JTA)
🇵🇸  The IDF launched a full investigation after an initial probe determined that Israeli troops should not have fatally shot a 45-year-old Palestinian in front of his son during an altercation last week in the occupied West Bank. (Times of Israel)
🎨  Actress Lisa Edelstein, known for her roles on House and The Kominsky Method, produced paintings that recreate old photos of her Jewish family that are on display this week in Manhattan. She's now considering illustrating a Passover haggadah. (JTA)
🏅  Want a Nobel Prize on your mantel without having to do all that pesky research? The bidding starts at $200,000 on Thursday for the gold medallion won by George Olah in 1994. Olah, a Jewish refugee from Budapest, won the prize in chemistry for work that led to the Environmental Protection Agency's phase down of leaded gasoline in 1973. (Nate D. Sanders Auctions) 
Shiva call ➤  Rebecca Lorch, a champion weightlifter and winner of the America's Strongest Woman competition, died by suicide at 32.
What else we're reading ➤ How the 'Jewish Kennedys' helped save 200,000 Jews in WWII and delayed Iranian nukes … After Supreme Court ruling, can jails show Christian television? … The resurgence of Algerian Jewish Sign Language.
On this day in history (1997): Madeleine Albright was sworn in as the first female U.S. Secretary of State. Days later, Albright learned from a Washington Post investigation that her parents had hidden their Jewish heritage and converted to Catholicism during the Holocaust. In her book Prague Winter: A Personal Story of Remembrance and War, Albright wrote about grappling with her late discovery of her family history, including learning about the two dozen of her relatives who had died in concentration camps. 
In honor of National Handwriting Day, read about one woman's obsession with her Hasidic father's handwritten letters.
—
Thanks to Rob Eshman, Beth Harpaz, Jacob Kornbluh, Lauren Markoe, Rebecca Salzhauer and Talya Zax for contributing to today's newsletter. You can reach the "Forwarding" team at editorial@forward.com.
The post Meet the Orthodox mom of seven who local Republicans want to replace George Santos appeared first on The Forward.