In the Garden of the Righteous: The Heroes Who Risked Their Lives to Save Jews During the Holocaust

By Richard Hurowitz

Harper, 476 pages, $29
It is a truism of Holocaust rescue stories that the rescuers didn't conceive of themselves as heroic. "What have I done that is so special?" Adolf Althoff, a German circus owner who sheltered Jewish performers, asked after World War II. Althoff and others insisted that they acted as any normal, decent person would under the circumstances.
The circumstances themselves were extraordinary, the perils extreme. The diverse rescuers in Richard Hurowitz's history, In the Garden of the Righteous, braved arrest, torture, even death. They ranged from diplomats who offered life-saving visas in defiance of their own countries' policies to resisters under Nazi occupation who knew that each day of subterfuge could be their last.
After the war, appreciation of their deeds was curtailed by guilt and lingering antisemitism. Many rescuers struggled with poverty and professional disgrace. But those they helped didn't forget them. The subjects of Hurowitz's book were honored by Israel's Holocaust memorial, Yad Vashem, as "Righteous Among the Nations," a designation reserved for non-Jews that now encompasses more than 27,000 people.
Hurowitz isn't a Holocaust scholar. His website describes him as a writer, investor and publisher of a magazine of ideas called The Octavian Report. But he has done an impressive job of researching and telling these invigorating stories. His greatest contribution has been tracking down children and grandchildren of the rescuers, as well as Holocaust survivors, who offer intimate accounts of what these rescue missions meant, and the costs they exacted.
Selecting which rescuers to highlight was one of Hurowitz's challenges. He skipped over Raoul Wallenberg, the Swedish diplomat who saved thousands of Hungarian Jews, and Oskar Schindler, the German industrialist and Nazi Party member turned rescuer, he writes, because their stories are so well known.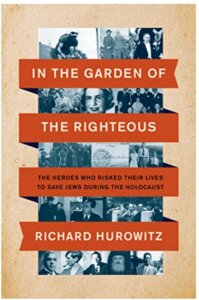 Richard Hurowitz's 'In the Garden of the Righteous' tells the stories of those who risked their lives to save Jews during WWII. Photo by Harper
His introduction mentions the White Rose, the Munich-based student group whose morally based opposition to the Third Reich is perhaps the most stirring of German resistance stories. The White Rose distributed rhetorically powerful flyers bemoaning the persecution of the Jews and urging the German populace to rise up against the Nazi regime.
But the White Rose — "beautiful souls in a time of nightmare," in Hurowitz's words — couldn't save even themselves. Betrayed by a janitor and others, key members were arrested and executed. Their main contribution was to provide a heroic counternarrative to set against the German majority's capitulation to Nazi ideology and terror. Their story "ultimately inspired the writing of this book," Hurowitz says.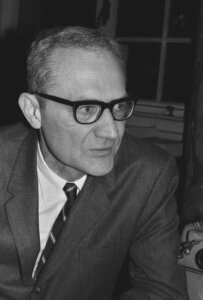 Varian Fry also ran an underground network that aided thousands of refugees in escaping from Nazi Germany. Photo by Getty Images
The rescuers Hurowitz covers in ten subsequent chapters (plus a conclusion) are not, for the most part, obscure. Several — including the American Varian Fry, the French Protestant pastor André Trocmé, and the Polish social worker Irena Sendler — have been the subject of biographies and histories.
Hurowitz contextualizes their deeds, often describing clusters of rescuers working together. Trocmé, for example, was backed by his wife Magda and parishioners in the town of Le Chambon-sur-Lignon, as well as by residents of neighboring villages. Tasked by the Emergency Rescue Committee with evacuating imperiled artists and intellectuals from France, the Harvard-educated Fry had a ready accomplice in Hiram Bingham IV, the scion of an elite family and a vice consul in Marseille; their chapter is titled "The Ivy Leaguers."
Sendler, too, did not work alone; she had contacts in the Jewish and Polish undergrounds, as well as a Polish organization dedicated to saving Polish Jews. Hurowitz usefully widens his lens, at times also diluting his narrative focus.
His first case study, of the Portuguese consul Aristides de Sousa Mendes, is among his most powerful. To escape Nazi-occupied Europe, Jewish refugees needed a complex assortment of paperwork that was challenging, at best, to assemble. Sousa Mendes' government explicitly barred him from issuing Portuguese visas to Jews. But after what he later described as "a severe nervous breakdown," Sousa Mendes determined to defy those instructions.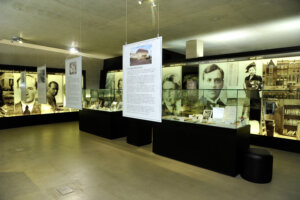 A 2016 exhibit in Los Angeles paid tribute to Aristides de Sousa Mendes, who may have saved as many as 30,000 Jews. Photo by Getty Images
According to Hurowitz, he may have saved as many as 30,000 Jews in a frantic few weeks of visa writing in southern France during the summer of 1940. Sousa Mendes described himself as the descendant of Jews forced to convert to Catholicism during the Inquisition, surely one motivation. But he also reportedly told a crowd of desperate refugees: "I would rather stand with God against man than with man against God." His government did not appreciate his initiative: He was ousted from the diplomatic service and stripped of his pension, with only Portugal's small Jewish community offering its support.
The physical dangers of rescue were greater for Irena Sendler, a Polish Catholic who grew up with Jewish friends and even spoke some Yiddish. During the Nazi occupation, Sendler seems to have been fearless, spiriting hundreds of starving Jewish children out of the Warsaw Ghetto and finding them hiding places. After being captured, she was beaten ceaselessly but refused to imperil her network. Her colleagues came through for her in the end, bribing an SS officer to help her escape.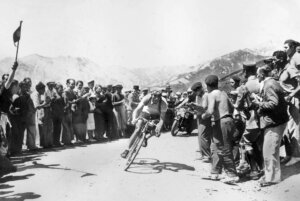 Italian cycling champion Gino Bartali hid Jews and served as a courier and scout for the Italian underground. Photo by Getty Images
The story of the rescue of Danish Jews, ferried to neutral Sweden in advance of Nazi raids, is a familiar one. The details Hurowitz provides are fascinating. He highlights the role of an Olympic rower, Knud Marstrand Christiansen, in aiding the escapes — and of a German diplomat, Georg Ferdinand Duckwitz, who tried to prevent the deportations. When those efforts failed, Duckwitz warned Danish officials of the impending threat. He confided in his diary that he was "assisted by my rock-solid belief that good deeds can never be wrong."
Elsewhere in Europe, other men and women worked desperately to stave off genocide. The head of the Greek Orthodox Church, Damaskinos, protected Athenian Jews; the Japanese diplomat Chiune Sugihara issued visas from the consulate in Kovno, Lithuania, and the Italian cycling champion Gino Bartali hid Jews and served as a courier and scout for the Italian underground. Hurowitz also relates how ten British prisoners of war jointly saved a starving, traumatized Jewish teenager, Sara Matuson, from a Nazi death march in the war's closing weeks.
Rescue, Hurowitz writes, was "a celebration of what is best in us and, in its extreme scarcity, an indictment of the worst." For those who did nothing to counter evil, he writes, "the existence of the righteous was an inconvenient fact." While rescuers had diverse motives, one unifying characteristic was a strong moral compass, a characteristic that he believes can be cultivated. "We may never have an inoculation against prejudice," Hurowitz concludes, with measured optimism, "but we can do our best to create a community that will resist the pathogen."
The post How the horrors of WWII turned the righteous into heroes appeared first on The Forward.