The Demiurge – By Michael Novakhov | The Demiurge – Links – Reviewed on 7.6.18
The "Operation Trump" And The "Operation 9/11"
Smart German boy Ernst Uhrlau might have fooled everyone: Putin, the Oligarchs, and the Great America! "Deutschland Uber Alles"! 
The Demiurge – By Michael Novakhov: The Operations "Trump" And "9/11"
By Michael Novakhov

The "Operation Trump": Is Ernst Uhrlau the Joker, the Demiurg, the Criminal Mastermind, and the Puppet Master?
"He's making us dance and he's enjoying every minute of it. It makes him feel important." – Tyler Drumheller of CIA, thinking about Ernst Uhrlau, from the book "Curveball", by Bob Drogin

___________________________________
Updated 7/6/2018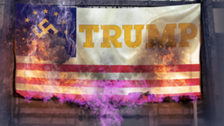 Journalist Envisions Horrifying Future In Dystopian Novel About 'Donald Jesus Trump'
__________________________________
The "Operation Trump" is the ultimate expose' on the truly grand historical scale. It is structured as a "performance crime", a warning about the future and at  the same time as the painful repetition compulsion, replay of the past; the historical tragicomedy and the psycho-historical trauma of fascismand totalitarianism. Stop Trump, the trumpism, the trumpistas, and their servants the  trumpeteers, it calls.
The players are the long list of "dramatis personae", and many of them appear to be quite the unsavory characters, like the Russian Jewish Oligarchs and some of the  American politicians and the para-political circles and industry. 
This play could be written by a person for whom the historical tragedy of Hitlerism was also his deeply felt personal and the ideological tragedy, and who views the situation from the Leftist positions, colored by the healthy dose of irony. "Operation Trump" also appears to be a sequel to "Operation 9/11" in certain respects. 
The list of the hypothetical "authors" of this hypothetical "play" might include Ernst Uhrlau, and in this article I try to explain, why I think, he might be on this list. The strings appear to be attached and 
TopicsLinks℠
The Demiurge: Herr Uhrlau and The Operations "Trump" and "9/11"

Herr Uhrlau, The Demiurge – 7.6.18

–

Ernst Uhrlau – 7.1.18

–

Hamburg Police

The Hamburg Cell – 7.6.18

–

Hamburg Cell

Russian Sources

Novichock – 7.5.18

–

Putin and Trump's cabinet appointments – 7.5.18

Anthony Weiner, German Intelligence, and the Related Topics – 7.4.18

German Hypothesis of Trump – Russia Affair – 6.27.18

NATO Summit 2018 – 6.30.18

FBI Entrapment – 6.27.18

Selected News Searches – 6.26.18

Counterintelligence Reform – 6.26.18

Weiner-Abedin Emails Affair is the FBI Plot – 5.26-21.18

Trump campaign, FBI informants, and their outing – 5.18.18

_____________________________________