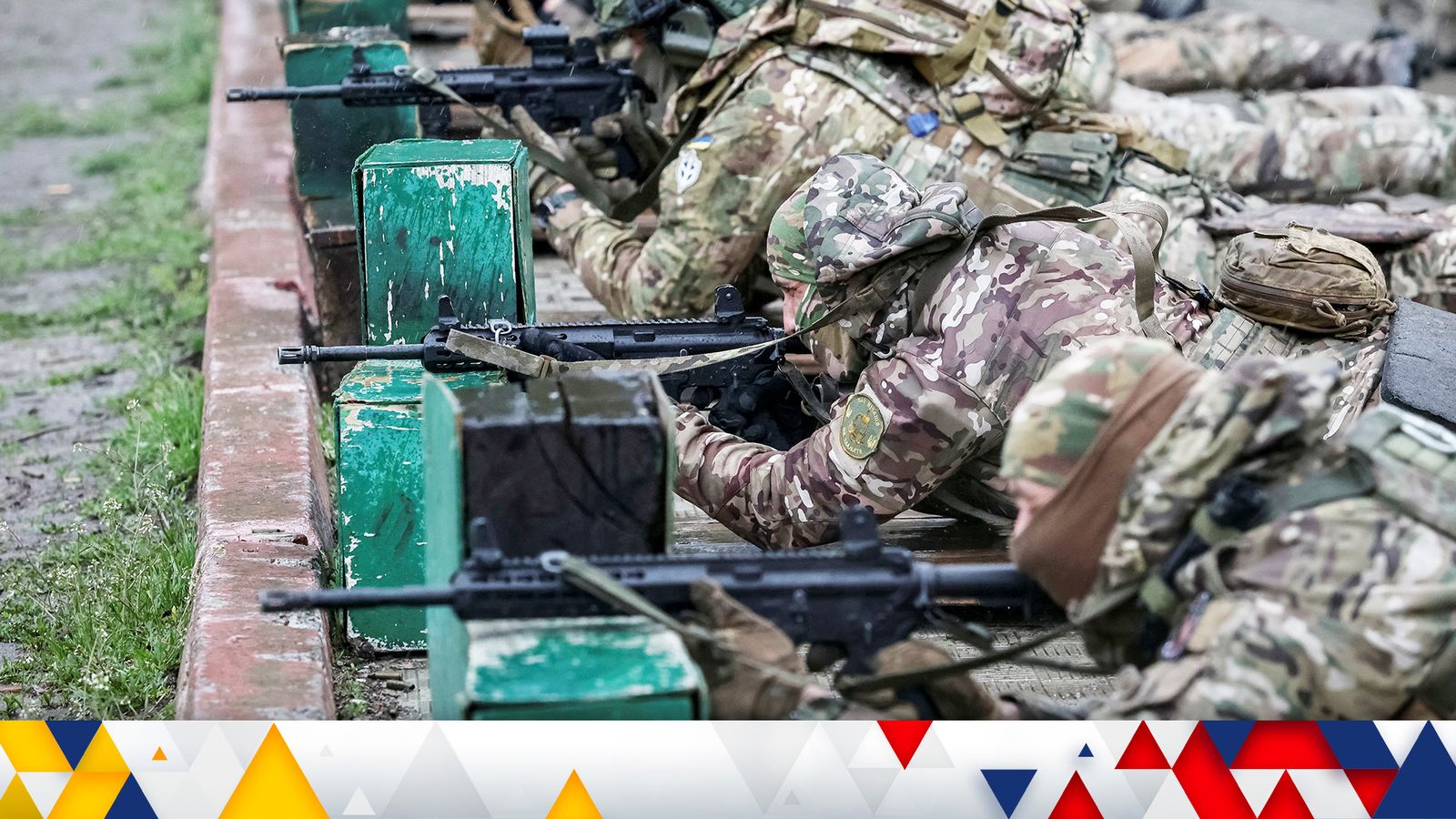 Spain sends Leopard tanks to Ukraine
Six Leopard 2A4 tanks have left Spain for Ukraine, according to a naval monitoring website.
The German-made tanks and armoured personnel
carriers were driven onto a cargo vessel, Reuters witnesses
said on Friday.
It is not clear when it is expected to arrive.
Spain's defence minister Margarita Robles said earlier this month
that Spain will send 10 Leopard 2A4 tanks (four are currently being repaired).
Spain has also trained 40 tank
crew and 15 mechanics.
Ukraine has been relying on Soviet-era tanks and has appealed to the West for modern battle tanks to help it fight the Russians.
Pictures: Buildings damaged by shelling in Izium
These are the latest pictures from the outskirts of Izium in Ukraine's Kharkiv region.
Russian shelling has destroyed a number of buildings in the area.
The pictures were taken today but it is not clear when the buildings were damaged.
Russian court orders arrest in absentia of Bellingcat reporter Christo Grozev
A Moscow court has ordered
the arrest in absentia of Bulgarian investigative journalist
Christo Grozev, according to RIA news agency.
Mr Grozev's reporting for Bellingcat news outlet has angered the Kremlin.
He has investigated the poisoning of Putin critic Alexey Navalny, and of Russian double agent Sergei Skripal.
RIA cited a law enforcement source as saying that he was accused of facilitating the escape of Roman Dobrokhotov, the
editor of a Russian news outlet, who left Russia in 2021.
Mr Grozev keeps his whereabouts secret for safety reasons.
After the court order, Mr Grozev
tweeted: "As Dobrokhotov said, 'Why don't they just poison us in
absentia and just get it over with'."
'They didn't even let me say goodbye' – Sasha hasn't seen his mother for almost a year
Our chief correspondent Stuart Ramsay has been hearing from  12-year-old Sasha.
Russian soldiers took him away from his mother in Mariupol almost a year ago and sent him to Russian-occupied territory in Donetsk.
He hasn't seen his mother since.
You can read more of the story here:
Russian priest exchanged for Ukrainian POWs, report says
The Kyiv Independent is reporting that a Russian priest has been handed back to Russia in exchange for 28 Ukrainian prisoners of war.
The news outlet is citing the chief of Ukraine's security service Vasyl Maliuk and an interview he did with Interfax Ukraine.
It also says that the cleric of the Ukrainian Orthodox Church of the Moscow Patriarchate had been convicted of collaboration.
'Buzzing, shuffling and humming': Former president Poroshenko visits troops
Former Ukrainian president Petro Poroshenko appears to have been in or near Bakhmut today.
He has posted photos of some of the soldiers he met and he wrote: "In addition to the apocalyptic appearance of these positions, there is also a constant buzzing, shuffling and humming.
"Off camera, the guys share front-line stories – how many casualties, wounded, what kind of adrenaline they have and what they have to do in Bakhmut.
"Hugs, wished success and victories. And they will!"
Ukraine is 'actively preparing new brigades and units', Zelenskyy says
Ukraine's President Volodymyr Zelenskyy has given his evening address.
He mentions a meeting during the day with defence and intelligence officials and a conversation with the president of the European Bank for Reconstruction and Development (EBRD), who was visiting Kyiv.
Regarding the military meeting, he said: "We constantly and carefully analyse the course of hostilities, the hottest and all potentially dangerous areas.
"The frontline is priority number one.
"We are also actively preparing new brigades and units that will show themselves at the front.
"The issue of their provision, training, and integration into the overall defence plan – we add crucial details every time at the staff meetings."
Regarding the talk with the president of the EBRD, he said: "Every investment now, every job saved or created in Ukraine, every implemented economic project is also protection.
"And when it comes to defence, speed is crucial.
"The attention of the EBRD was drawn, in particular, to the urgent needs for recovery, housing construction, and investment opportunities in Ukraine.
"To work with Ukraine and in Ukraine right now is to implement the very mission for which the EBRD was created."
Russian official warns of 'uncontrollable' nuclear arms race
A Russian official warned on Friday of an "uncontrollable" arms race involving multiple nuclear powers.
"In essence, we are witnessing a missile arms race with consequences that are hard to predict," Grigory Mashkov, ambassador-at-large, was quoted as saying by state media.
"Tens of billions of dollars are being invested in improving missile technology. 
"This process is taking on an uncontrollable character." 
Mr Mashkov referred in a magazine interview to China's rapid expansion of its missile systems and to the nuclear capabilities of Israel, India and Pakistan.
Atomic scientists said in January that the "Doomsday Clock" – a notional measure of the risk of mankind's extinction – had ticked closer to midnight than ever before as a result of rising nuclear tensions since Russia's invasion of Ukraine.
In February, Putin announced Moscow was suspending the New START treaty with the United States, which limits each side's deployed nuclear warheads, saying Washington was trying to inflict a "strategic defeat" on Russia in Ukraine.
Medvedev: 'Britain is our eternal enemy'
Dmitry Medvedev has responded to the sanctions the UK placed on five Russian nationals earlier today by calling Britain Moscow's "eternal enemy".
On the messaging app Telegram, the former Russian president branded the British monarchy "degenerate" and called past prime ministers Theresa May, Boris Johnson and Rishi Sunak "very bizarre creatures".
Utilising trademark Kremlin diplomatic language, the deputy chairman of Putin's Security Council signed off his message saying: "Britain was, is and will be our eternal enemy. 
"In any case, until their impudent and disgustingly damp island goes into the abyss of the sea from the wave created by the latest Russian weapons system.
"Let it be, as the Beatles sang …"
Lloyd Austin: 'Putin's war is not the result of NATO enlargement, it is the cause of NATO enlargement'
The US secretary of defence took a swipe at the Russian leader in his remarks at Ramstein Air Base in Germany.
Speaking after a meeting of the Ukraine Contact Group, Lloyd Austin said Vladimir Putin made a "series of grave miscalculations when he invaded Ukraine more than a year ago".
Mr Austin said: "He thought that Ukraine wouldn't fight back, but Ukraine is standing strong with the help of its partners.
"Putin thought our unity would fracture, but Russia's cruel war of choice has only brought us close together. 
"I note that Finland, which has long taken part in this contact group is here today as a new NATO ally – I suspect that Sweden will soon follow."
He added: "That makes something crystal clear – Putin's war of choice is not the result of NATO enlargement, it is the cause of NATO enlargement."