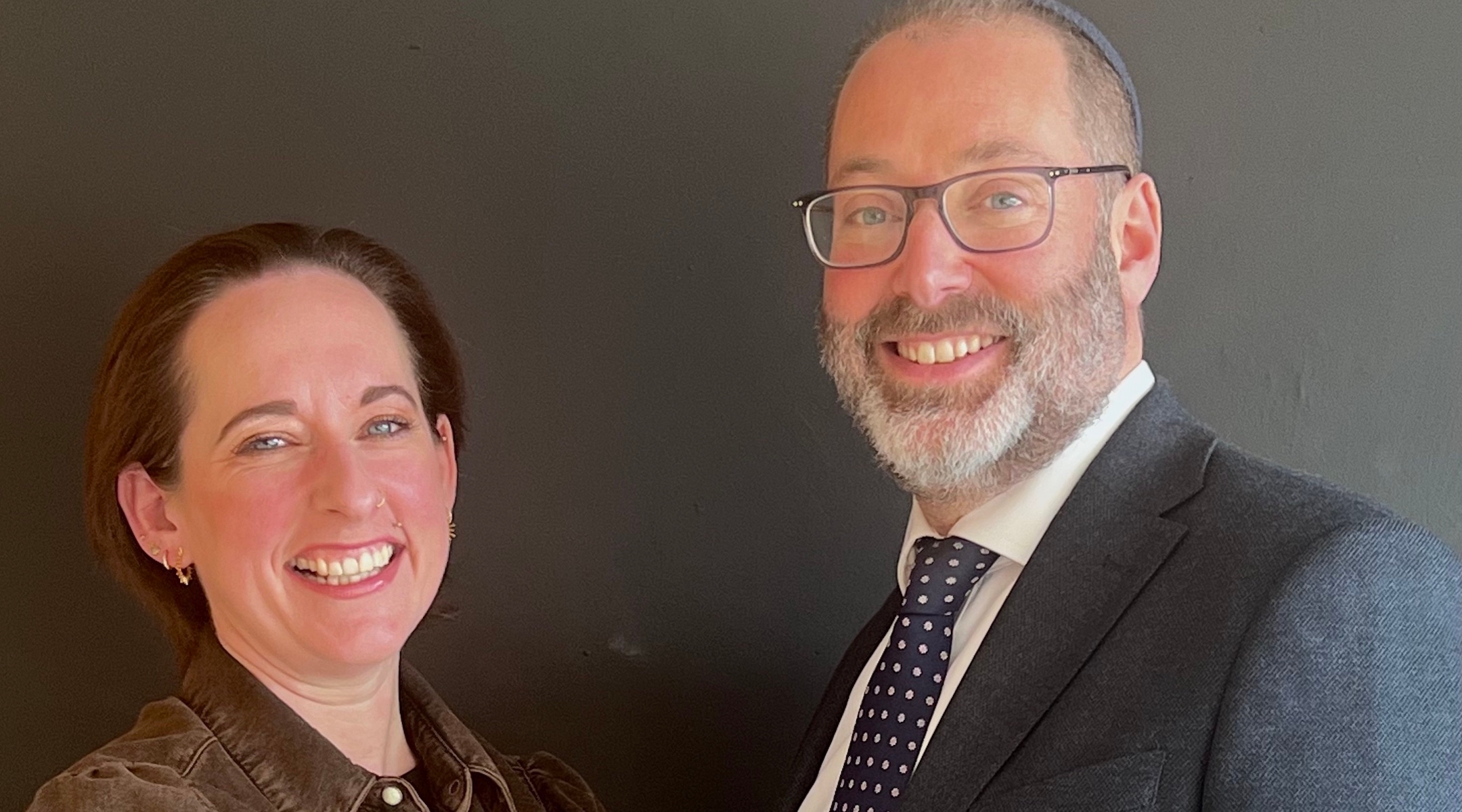 (JTA) — In a major development for British Jewry, the United Kingdom's Liberal and Reform Jewish movements are joining to create a unified Progressive Judaism movement after working separately for more than 120 years.
The historic project, a culmination of decades of discussions and rapprochement, is to be led by the Reform movement's newly-appointed CEO, Rabbi Josh Levy — who is leaving his role as principal rabbi of Alyth (or the North Western Reform Synagogue) in London — and Liberal Judaism CEO Rabbi Charley Baginsky.
The union was made possible in part by the decision of the U.K. Reform movement in 2015 to accept patrilineal Jews — or Jews with a Jewish father but not a Jewish mother — as full members of communities. That American model is embraced by the Liberal movement, but most European Reform organizations require patrilineal Jews to convert to become full members of their communities.
Today, the two British movements share their "welcome of mixed faith families and fully egalitarian services," Baginsky wrote in a statement on Tuesday. "We are as one on everything from campaigning for same-sex marriage to training rabbis and educators, to offering provision for students and young people."
"'What is the difference between Liberal and Reform Judaism' has therefore become a question that our rabbis, cantors, lay leaders and even PR people struggle to answer," Baginsky and Levy wrote in an op-ed in the U.K. Jewish News on Tuesday.
Paul Langsford, co-chair of the Reform movement, assured members of both groups that "no one will be asked to change their synagogue name, their Reform identity, or change their prayerbook." He added that input from members was welcome and would help shape future policies.
The London-based Institute for Jewish Policy Research reported that, as of 2021, there were 271,327 self-identified Jews living in England and Wales, up from 265,073 in 2011 and 259,927 in 2001. They make up 0.46% of the total population of both countries.
According to today's press statement, Progressive Jews will together make up around 30% of those who are affiliated with synagogues in the U.K. There are more than 80 Progressive communities reaching all parts of the country. Rabbis for both movements are trained at the London-based Leo Baeck College.
The Reform and Liberal movements held talks about unifying as far back as the 1970s and 1980s. They formed an alliance some ten years ago on such matters as student chaplaincy and social justice.
"Our lay leadership and clergy are clear that the future for Progressive Judaism is to have one shared movement to represent all of Britain's Progressive Jews," Langsford and Ruth Seager, chair of Liberal Judaism, said in a joint statement. "Our movements have made a huge impact on the development of the Jewish and wider world, but there is much more to do, and we believe this can be better achieved together."
This article originally appeared on JTA.org.
The post UK's Liberal and Reform movements merge as Progressive Judaism appeared first on The Forward.