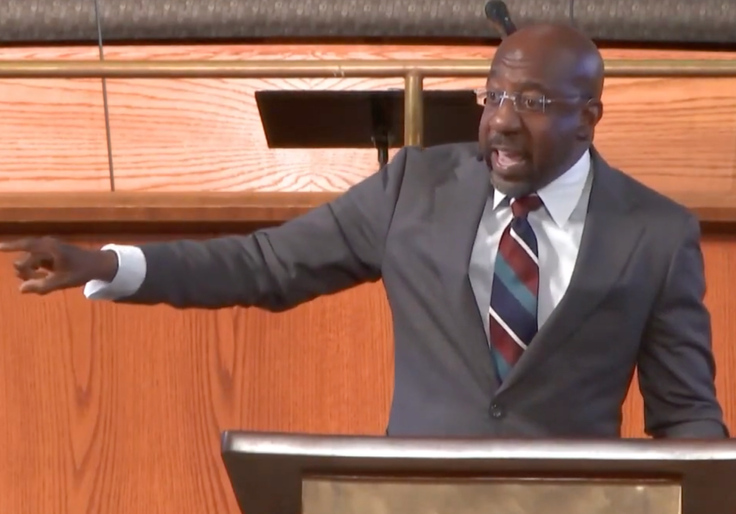 Georgia Democratic senator Raphael Warnock's church, where he serves as senior pastor and CEO, belongs to a coalition of far-left congregations that is calling for an end to U.S. military aid to Israel.
Warnock's Ebenezer Baptist Church is listed as a member of the Progressive National Baptist Convention, a left-wing Baptist denominational group that has been a staunch critic of the Jewish state. The senator gave the keynote speech at the PNBC's annual conference last year, where it passed a resolution accusing Israel of "apartheid" and "ethnic cleansing."
Warnock's affiliation with the PNBC comes nearly two years after he faced criticism from the Jewish community for signing on to a statement, published by the same organization, that compared Israel to apartheid South Africa. In response to the controversy, Warnock's campaign said he supported the U.S.-Israel relationship and "opposes ending direct military aid to such a strong ally."
Despite Warnock's own history of anti-Israel statements, such as accusing Israel of shooting unarmed Palestinians "like birds of prey," he pivoted on the campaign trail in 2020 and positioned himself as a supporter of the Jewish state. But his church's ongoing membership in the PNBC—and Warnock's decision to headline its annual gathering last year—could reignite questions about his views.
Danielle Repass, the press secretary for the Georgia Republican Party, told the Washington Free Beacon that Warnock's involvement with the group is in line with his "relentless history of anti-Israel speech."
"Time and time again, Raphael Warnock proves that he is irreconcilably out of touch with Georgians," said Repass.
Warnock served as the PNBC's social justice committee chairman until 2018, according to the group's newsletter. The organization has been pushing the U.S. government to cut off military aid to Israel since at least 2019.
The PNBC took an even stronger stance at its annual conference that featured Warnock last year, issuing a resolution that slammed "Israel's long and violent history of ethnic cleansing throughout all of Palestine" and called for "recognizing the reality that the Israel is an apartheid state, that practices separate-but-unequal treatment of Palestinians and denies Palestinian human rights."
"Therefore be it resolved that the Progressive National Baptist Convention Inc. calls for an immediate end to all U.S. military funding to Israel," said the PNBC, according to a copy of the resolution.
The PNBC said it would establish a "Palestinian Solidarity Campaign" among its member churches and develop an "Action Plan" to "end the Israel's Military Occupation of Palestine."
The resolution also endorsed the Kairos document, issued by Palestinian Christian leaders in 2009 in an effort to recruit churches into a global anti-Israel boycott campaign. The document defends Palestinian terrorism as "legal resistance" and calls for a "system of economic sanctions and boycott to be applied against Israel."
Warnock came under fire during his last election for signing on to a National Council of Churches statement with other clergy members, which claimed Israel's policies in the West Bank were "reminiscent" of apartheid South Africa. The PNBC passed the same statement as a resolution at its 2019 conference, which also included a call to cut off military aid, the Jewish Insider reported.
During a 2018 sermon, Warnock also accused Israel of "shoot[ing] down unarmed Palestinian sisters and brothers like birds of prey."
The senator tried to distance himself from these comments during his 2020 campaign, saying through a spokesman that the "reservations he has expressed about settlement activity do not change his strong support for Israel and belief in its security—which is exactly why he opposes ending direct military aid to such a strong ally."
The post Warnock's Church Belongs to Coalition That Wants to End Military Aid to Israel appeared first on Washington Free Beacon.